ALL Northeast Wrestling DVDs are now on sale in time for the holidays! Our DVDs feature the biggest names in wrestling from Hulk Hogan to "Nature Boy" Ric Flair to Bret "Hitman" Hart and even Daniel Bryan.
Prices have been slashed! New prices are:
* All 2013 DVDs - $15 Now $12
* All 2012 DVDs - $12 Now $10
* All Other DVDs - $7 Now $5

Our DVDs make great stocking stuffers for the wrestling fans in your life or take this opportunity to complete your Northeast Wrestling DVD collection. Either way, take advantage of these great deals while supplies last!
Click Here to Visit Our Store »
---
Northeast Wrestling returns to the Bethany Town Hall (40 Peck Road) in Bethany, CT on Saturday, January 18, 2014 at 7 p.m. Superstars and matches will be announced soon but tickets are on sale now! Northeast Wrestling live event tickets make a great gift/stocking stuffer!
Click Here to Order Event Tickets »
---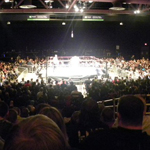 Is your organization looking for a fun and profitable fundraiser?
Northeast Wrestling brings the action of family friendly pro wrestling to high schools, colleges, armories, fairs and stadiums. We have raised significant funds for schools, fire departments, youth groups and all other non-profit organizations.
Click Here to Learn More About Fundraising »

Northeast Wrestling Dates
---
Meet Wrestling Superstars
---
» TBA
Subscribe to our e-Newsletter
---
Sign-up for our FREE e-newsletter. Simply enter your e-mail below and then click the "Subscribe" button.

Bookings
---
Northeast Wrestling and NEW Entertainment can provide you and your business with one of the superstars of wrestling for your next big event. Superstars such as Mick Foley, Jerry "The King" Lawler, Dusty Rhodes, Jim Ross and current WWE Superstars are available for autograph sessions, personal appearances, grand openings, motivational speaking, etc.
E-Mail Us
for more information.
Facebook
---
Twitter
---