---
---
---
---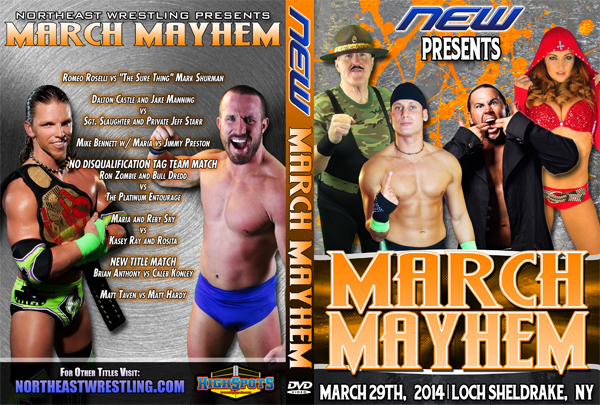 March Mayhem
March 29, 2014
Loch Sheldrake, NY
Price: $15
Romeo Roselli vs. "The Sure Thing" Mark Shurman
Dalton Castle and Jake Manning vs. Sgt. Slaughter and Private Jeff Starr
Mike Bennett w/ Maria vs. Jimmy Preston
No DQ Tag Match: Ron Zombie and Bull Dredd vs. The Platinum Entourage
Maria and Reby Sky vs. Kasey Ray and Rosita
NEW Title Match: Brian Anthony vs. Caleb Konley
Matt Taven vs. Matt Hardy
Click Here to Visit Our Store »
---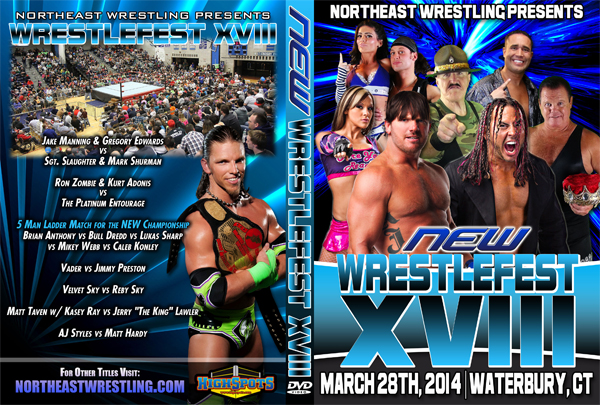 Wrestlefest 18
March 28, 2014
Waterbury, CT
Price: $15
Jake Manning & Gregory Edwards vs. Sgt. Slaughter & Mark Shurman
Ron Zombie & Kurt Adonis vs. The Platinum Entourage
Five Man Ladder Match for the NEW Championship: Brian Anthony vs. Bull Dredd vs. Lukas Sharp vs. Mikey Webb vs. Caleb Konley
Vader vs. Jimmy Preston
Velvet Sky vs. Reby Sky
Matt Taven w/ Kasey Ray vs. Jerry "The King" Lawler
AJ Styles vs. Matt Hardy
Click Here to Visit Our Store »
---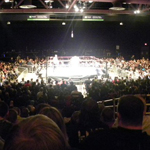 Is your organization looking for a fun and profitable fundraiser?
Northeast Wrestling brings the action of family friendly pro wrestling to high schools, colleges, armories, fairs and stadiums. We have raised significant funds for schools, fire departments, youth groups and all other non-profit organizations.
Click Here to Learn More About Fundraising »

Northeast Wrestling Dates
---
Meet Wrestling Superstars
---
Subscribe to our e-Newsletter
---
Sign-up for our FREE e-newsletter. Simply enter your e-mail below and then click the "Subscribe" button.

Store
---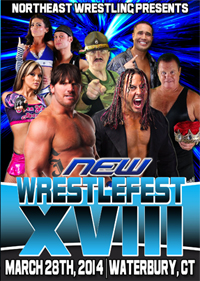 Northeast Wrestling's March Mayhem 2014 and Wrestlefest 18 DVDs are now available for only $15 each! Enter the
store
.
Bookings
---
Northeast Wrestling and NEW Entertainment can provide you and your business with one of the superstars of wrestling for your next big event. Superstars such as Mick Foley, Jerry "The King" Lawler, Dusty Rhodes, Jim Ross and current WWE Superstars are available for autograph sessions, personal appearances, grand openings, motivational speaking, etc.
E-Mail Us
for more information.
Facebook
---
Twitter
---