3/28: WRESTLEFEST 18 IN WATERBURY, CT
---
A.J. STYLES PRE-ORDERS
A.J. STYLES AUTOGRAPH & PHOTO-OP COMBO - $25
A.J. STYLES AUTOGRAPH - $15
A.J. STYLES PHOTO OP - $15
---
MATT HARDY PRE-ORDERS
MATT HARDY AUTOGRAPH - $15
MATT HARDY PHOTO OP - $15
---
JERRY "THE KING" LAWLER PRE-ORDERS
JERRY "THE KING" LAWLER AUTOGRAPH - $10
JERRY "THE KING" LAWLER PHOTO OP - $10

Northeast Wrestling Dates
---
Meet Wrestling Superstars
---
Subscribe to our e-Newsletter
---
Sign-up for our FREE e-newsletter. Simply enter your e-mail below and then click the "Subscribe" button.

Store
---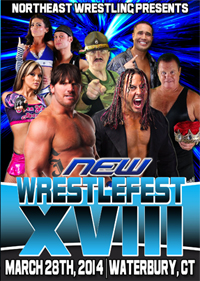 Northeast Wrestling's March Mayhem 2014 and Wrestlefest 18 DVDs are now available for only $15 each! Enter the
store
.
Bookings
---
Northeast Wrestling and NEW Entertainment can provide you and your business with one of the superstars of wrestling for your next big event. Superstars such as Mick Foley, Jerry "The King" Lawler, Dusty Rhodes, Jim Ross and current WWE Superstars are available for autograph sessions, personal appearances, grand openings, motivational speaking, etc.
E-Mail Us
for more information.
Facebook
---
Twitter
---