SATURDAY, NOVEMBER 27: REDEMPTION
---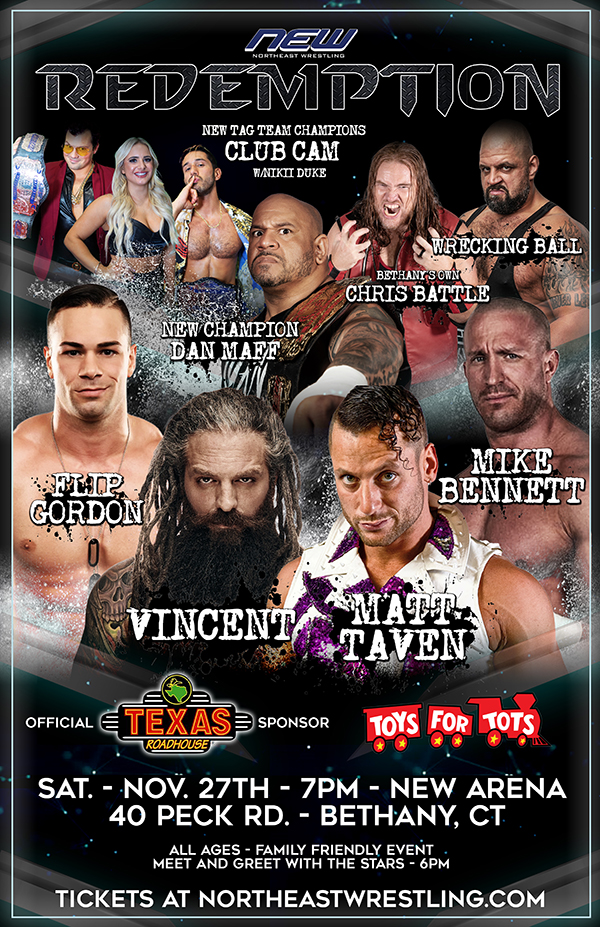 Northeast Wrestling will present Redemption on Saturday, November 27 at the NEW Arena (40 Peck Rd) in Bethany, CT. Bell time is 7 p.m. Autograph session with all the stars before the event at 6 p.m.
This show is our annual Toys for Tots holiday event. Members of the United States Marine Corp. will be in attendance at the event. If you are able, we ask that you bring an unwrapped toy to be donated to their toy drive. In past years, we have received amazing support by Northeast Wrestling fans, superstars and staff with their donations.
SCHEDULED TO APPEAR . . .
VINCENT VS. MATT TAVEN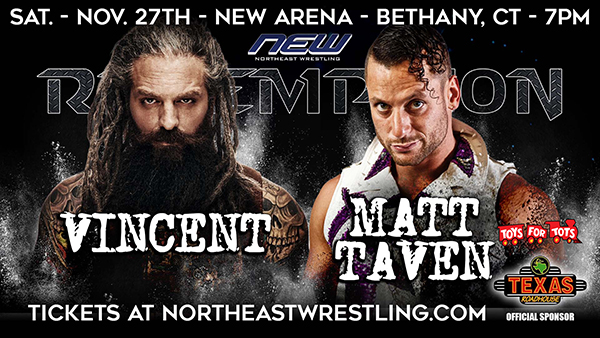 ---
CHANNING THOMAS VS. FLIP GORDON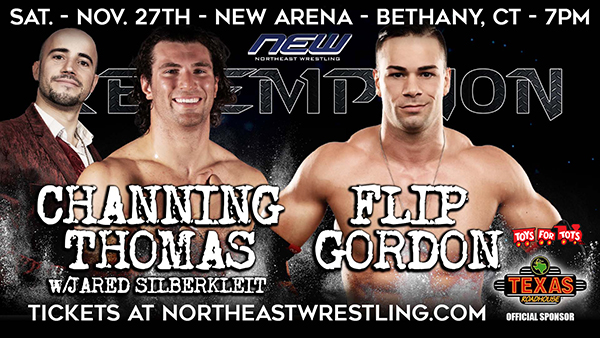 ---
NEW LIVE! CHAMPIONSHIP
MIKE VERNA VS. MIKE BENNETT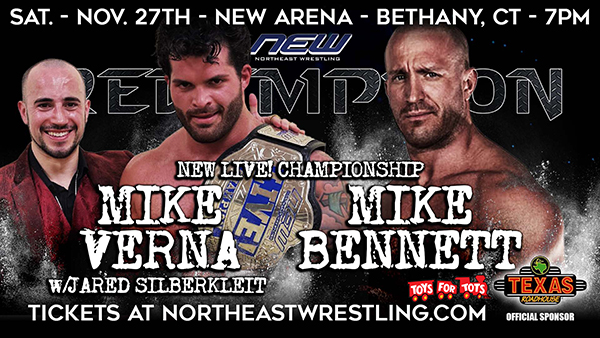 ---
JT DUNN & BRAD HOLLISTER VS. DAN MAFF & WRECKING BALL LEGURSKY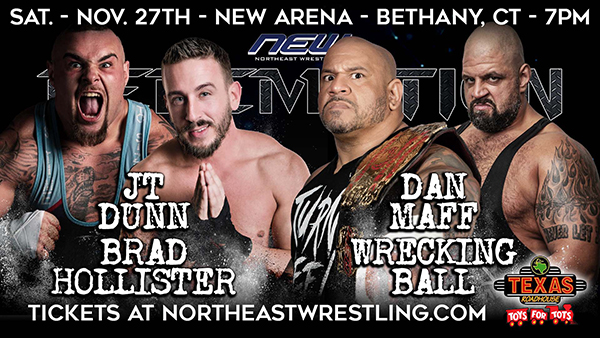 ---
BRETT RYAN GOSSELIN
OPEN CHALLENGE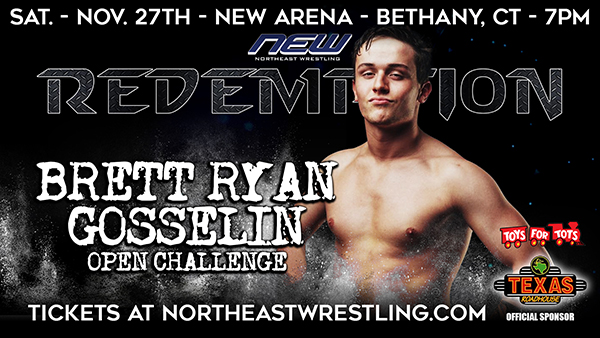 ---
EIGHT MAN TAG
WAVES & CURLS AND INZANELY RUDE VS. BRG/JAZ AND STETSON/CLANCY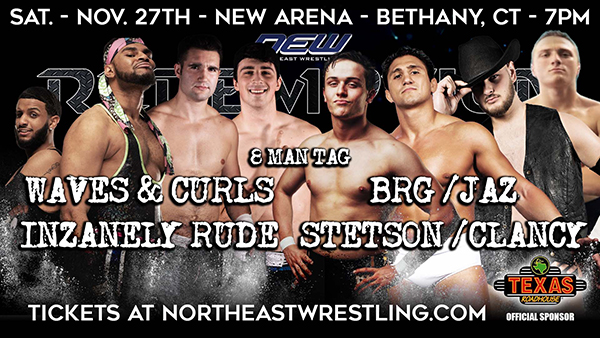 ---
APPEARANCE BY NORTHEAST WRESTLING TAG TEAM CHAMPIONS
CLUB CAM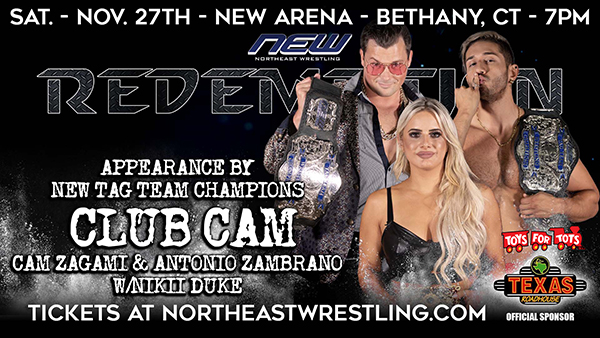 ---
ALEC PRICE VS. GIO GALVANO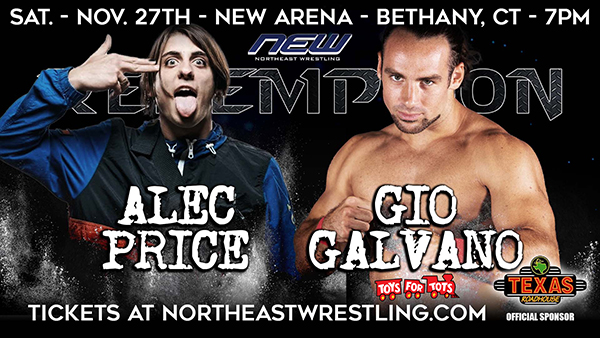 ---
"MUCHO" CHRIS MOLJO VS. CHRIS BATTLE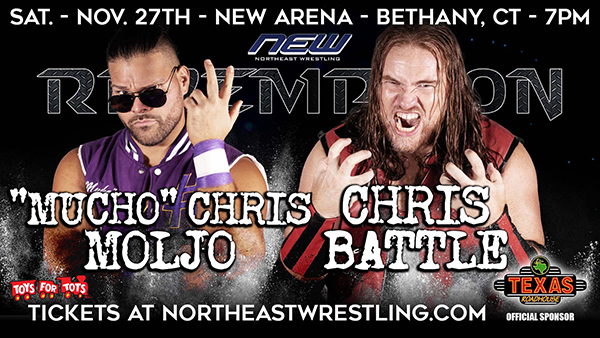 ---
IN ACTION
WILLOW NIGHTINGALE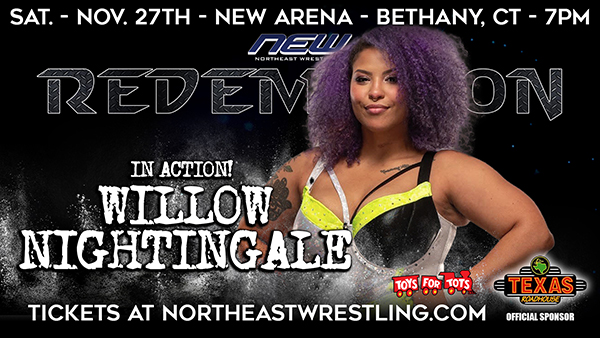 ---
APPEARANCE BY 1MANTHRILLRIDE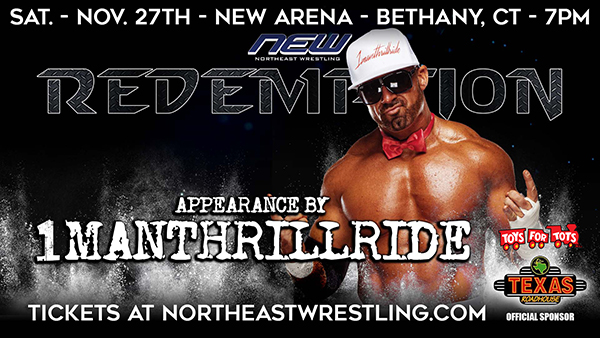 ---
ALL NORTHEAST WRESTLING TICKET SALES ARE FINAL.
NO REFUNDS OR EXCHANGES.

Northeast Wrestling Events
---
Meet Wrestling Superstars
---
Northeast Wrestling On Demand!
---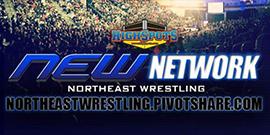 » Watch via Pivotshare
» Watch via the Highspots Wrestling Network
Stream these shows NOW via your computer, phone, tablet and on your television with Apple TV, Roku or Chromecast!
Recently Added:
» Destiny - Bethany, CT | Pivotshare | Highspots
» Better Than You - Danbury, CT | Pivotshare | Highspots
» Wrestlefest 25 - Poughkeepsie, NY | Pivotshare | Highspots
» Wrestling Under the Stars - Niles, OH | Pivotshare | Highspots

Subscribe to our e-Newsletter
---
Sign-up for our FREE e-newsletter. Simply enter your e-mail below and then click the "Subscribe" button.

Pro Wrestling Tees Store
---
Free Match on YouTube

---
Facebook
---
Twitter
---
Store
---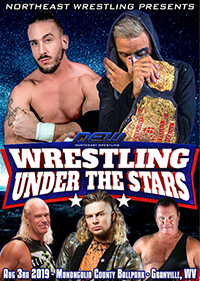 DVD: Better Than You - Danbury, CT
Enter the
store
»
---
Bookings
---
Northeast Wrestling and NEW Entertainment can provide you and your business with one of the superstars of wrestling for your next big event. Superstars such as Mick Foley, Jerry "The King" Lawler, Jim Ross and current WWE Superstars are available for autograph sessions, personal appearances, grand openings, motivational speaking, etc.
E-Mail Us
for more information.