SATURDAY, DECEMBER 18: HOLIDAY HAVOC
---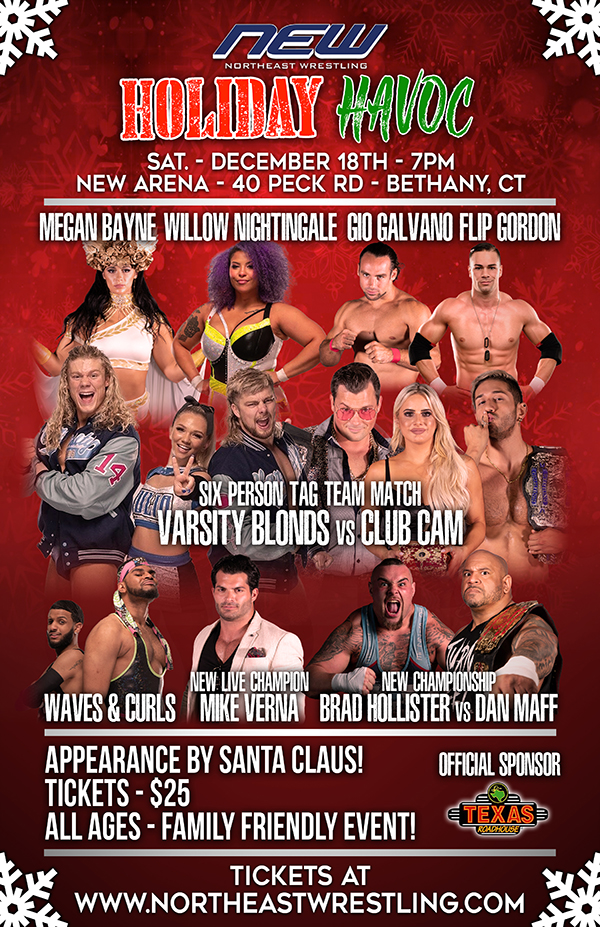 Northeast Wrestling will present Holiday Havoc on Saturday, December 18 at the NEW Arena (40 Peck Rd) in Bethany, CT. Bell time is 7 p.m. Autograph session with all the stars before the event at 6 p.m.
SCHEDULED TO APPEAR . . .
NORTHEAST WRESTLING CHAMPIONSHIP
BRAD HOLLISTER VS. DAN MAFF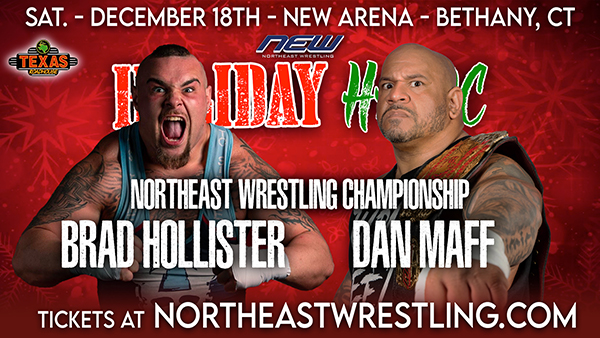 ---
TRUST FUND VS. FLIP GORDON & GIO GALVANO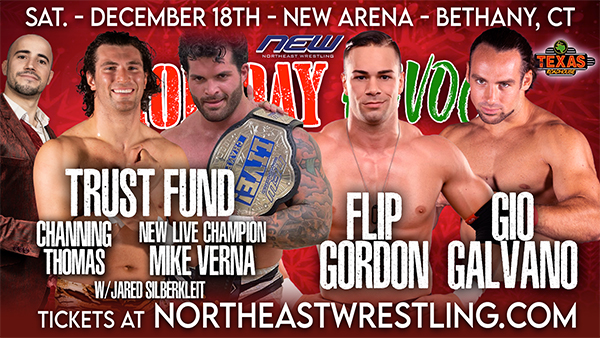 ---
TAG TEAM ELIMINATOR FINALS
INZANELY RUDE VS. WAVES & CURLS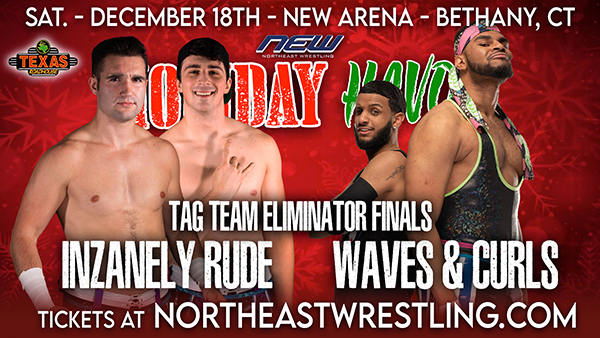 ---
SIX PERSON TAG
VARSITY BLONDES VS. CLUB CAM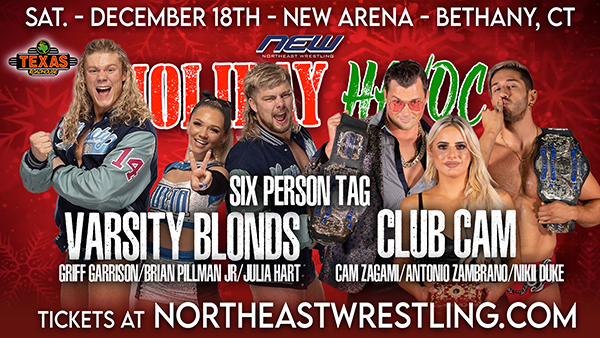 ---
LITTLE MEAN KATHLEEN VS. THE MEGASUS MEGAN BAYNE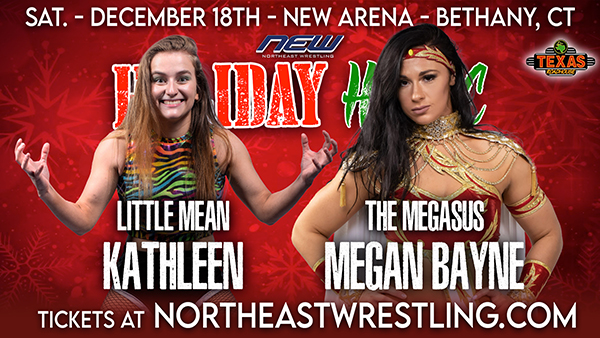 ---
THE ALTERNATIVE ANTHONY GREENE VS. JT DUNN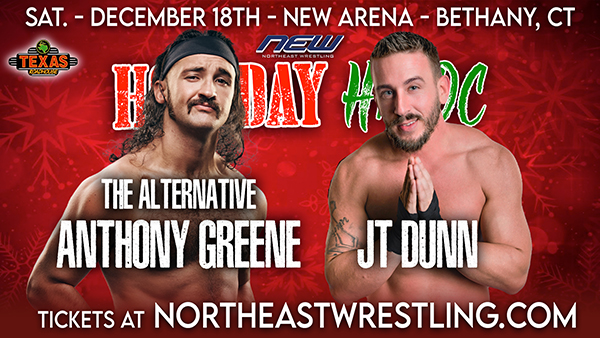 ---
WILLOW NIGHTINGALE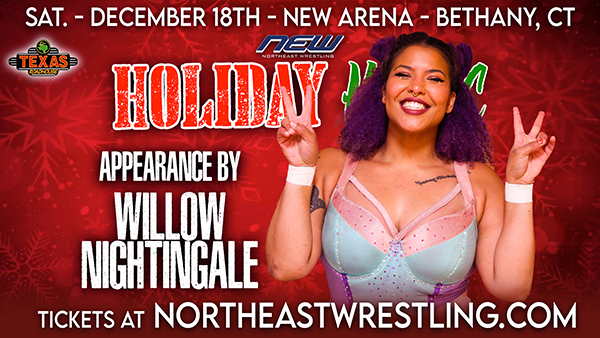 ---
#MCM MUCHO CLAUS MOLJO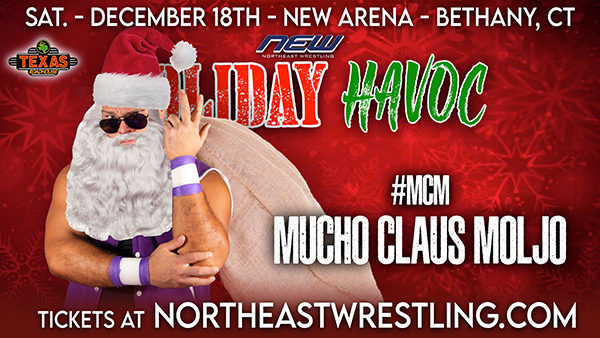 ---
ALL NORTHEAST WRESTLING TICKET SALES ARE FINAL.
NO REFUNDS OR EXCHANGES.

Northeast Wrestling Events
---
Meet Wrestling Superstars
---
Northeast Wrestling On Demand!
---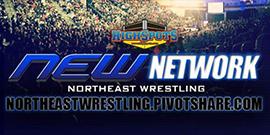 » Watch via Pivotshare
» Watch via the Highspots Wrestling Network
Stream these shows NOW via your computer, phone, tablet and on your television with Apple TV, Roku or Chromecast!
Recently Added:
» Destiny - Bethany, CT | Pivotshare | Highspots
» Better Than You - Danbury, CT | Pivotshare | Highspots
» Wrestlefest 25 - Poughkeepsie, NY | Pivotshare | Highspots
» Wrestling Under the Stars - Niles, OH | Pivotshare | Highspots

Subscribe to our e-Newsletter
---
Sign-up for our FREE e-newsletter. Simply enter your e-mail below and then click the "Subscribe" button.

Pro Wrestling Tees Store
---
Free Match on YouTube

---
Facebook
---
Twitter
---
Store
---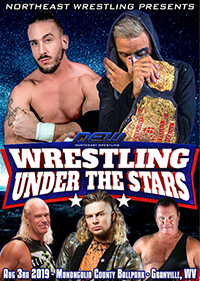 DVD: Better Than You - Danbury, CT
Enter the
store
»
---
Bookings
---
Northeast Wrestling and NEW Entertainment can provide you and your business with one of the superstars of wrestling for your next big event. Superstars such as Mick Foley, Jerry "The King" Lawler, Jim Ross and current WWE Superstars are available for autograph sessions, personal appearances, grand openings, motivational speaking, etc.
E-Mail Us
for more information.