SUNDAY, JULY 24: ZERO FEAR
---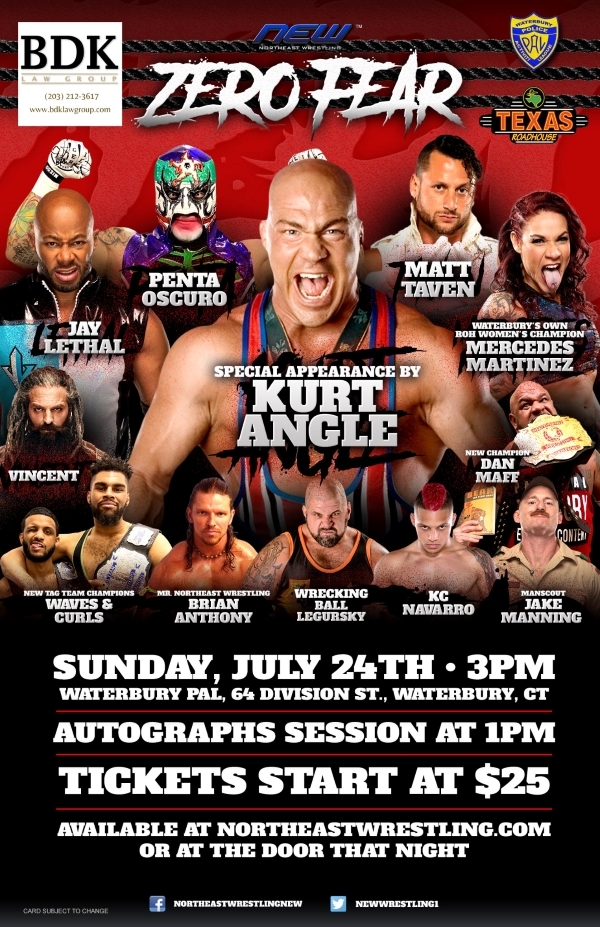 Northeast Wrestling will present ZERO FEAR at the Waterbury PAL Building (64 Division St.) in Waterbury, CT on Sunday, July 24 with a special 3 p.m. bell time. Meet and Greet with all the stars at 1 p.m.
SCHEDULED TO APPEAR . . .
KURT ANGLE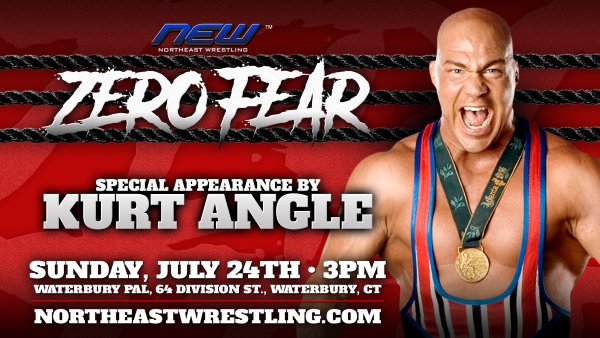 ---
NORTHEAST WRESTLING CHAMPION
DAN MAFF W/ VITO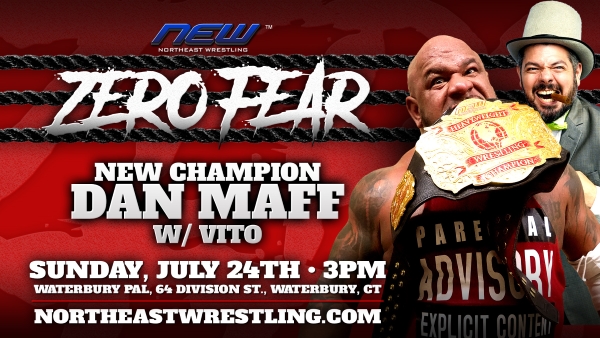 ---
PENTA OSCURO VS. MATT TAVEN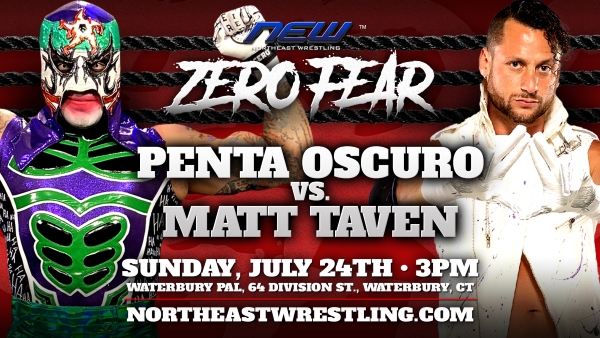 ---
VINCENT VS. JAY LETHAL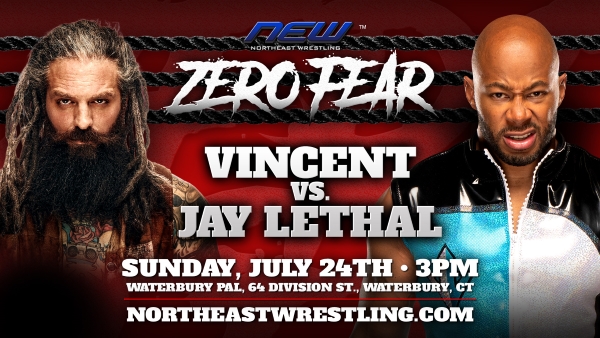 ---
NEW LIVE! CHAMPIONSHIP MATCH
FATAL FOUR WAY
JT DUNN VS. KC NAVARRO VS. FLIP GORDON VS. ALEX PRICE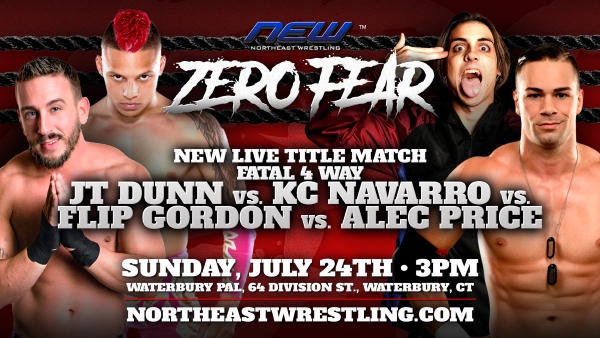 ---
WILLOW NIGHTINGALE VS. RING OF HONOR WOMEN'S CHAMPION MERCEDES MARTINEZ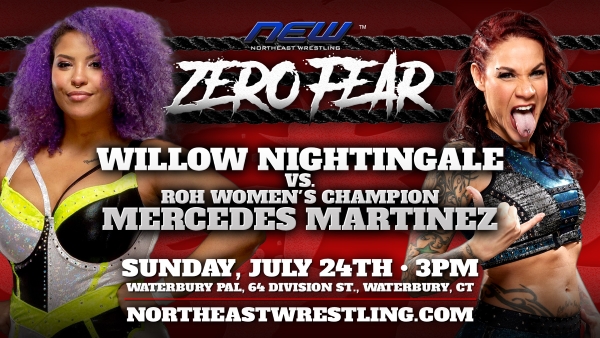 ---
WRECKING BALL LEGURSKY VS. DUTCH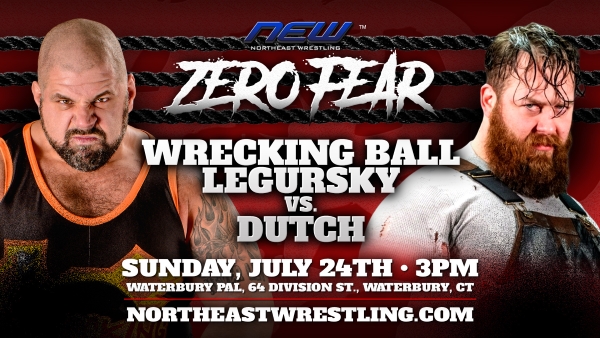 ---
"MANSCOUT" JAKE MANNING VS. "WORLD CLASS" CHANNING THOMAS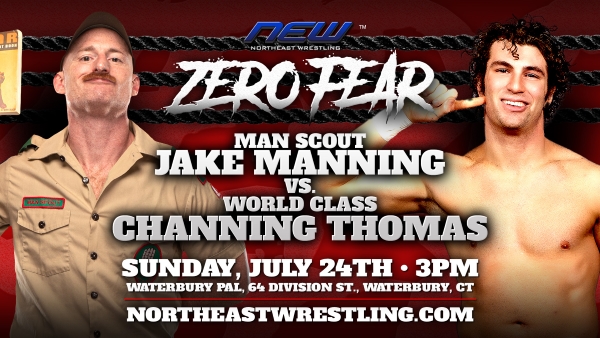 ---
ALL NORTHEAST WRESTLING TICKET SALES ARE FINAL.
NO REFUNDS OR EXCHANGES.

Northeast Wrestling Events
---
Meet Wrestling Superstars
---
- TBA

Northeast Wrestling On Demand!
---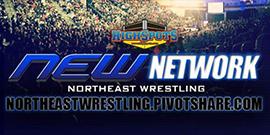 - Watch via Pivotshare
- Watch via the Highspots Wrestling Network
Stream these shows NOW via your computer, phone, tablet and on your television with Apple TV, Roku or Chromecast!
Recently Added:
- The Show With No Name | Pivotshare | Highspots
- Wrestling Under the Stars | Highspots
- Destiny | Pivotshare | Highspots
- Superstar Showdown III | Highspots
- Heat Wave | Pivotshare | Highspots
- Six Flags Slam Fest | Pivotshare | Highspots
- Superstar Showdown II | Pivotshare | Highspots

Subscribe to our e-Newsletter
---
Sign-up for our FREE e-newsletter. Simply enter your e-mail below and then click the "Subscribe" button.

Pro Wrestling Tees Store
---
Free Match on YouTube

---
Facebook
---
Twitter
---
Bookings
---
Northeast Wrestling and NEW Entertainment can provide you and your business with one of the superstars of wrestling for your next big event. Superstars such as Mick Foley, Jerry "The King" Lawler, Jim Ross and current WWE Superstars are available for autograph sessions, personal appearances, grand openings, motivational speaking, etc.
E-Mail Us
for more information.