FRIDAY, SEPTEMBER 9: WRESTLING UNDER THE STARS
---
Northeast Wrestling and the Mahoning Valley Scappers will present Wrestling Under the Stars at Eastwood Field in Niles, Ohio on Friday, September 9. Belltime is 7:30 p.m. Meet and Greet Autograph Session with the Stars at 4:30 p.m.
Due to health issues Malakai Black will not be appearing at this show. We wish him the best in his recovery. Taking his place are All Elite Wrestling Superstar Jay Lethal and NZO!
If you purchased Malakai meet and greets please email us at newwrestling@yahoo.com with the name on your order for a refund.
SCHEDULED TO APPEAR . . .
PENTA OSCURO VS. MATT TAVEN VS. JAY LETHAL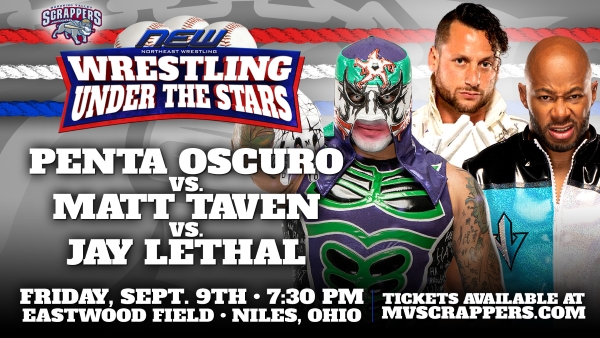 ---
IWC TITLE MATCH
JERRY "THE KING" LAWLER VS. MAN DIME ELIJAH DEAN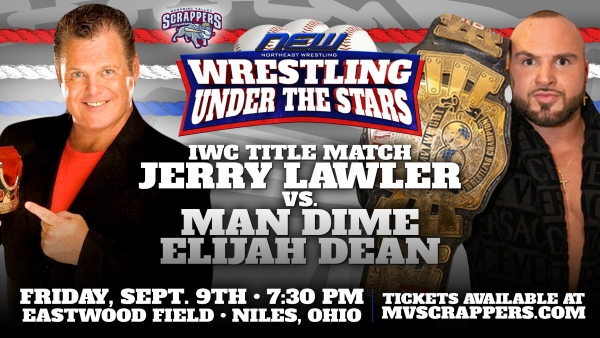 ---
JOHN MORRISON VS. BRIAN PILLMAN JR.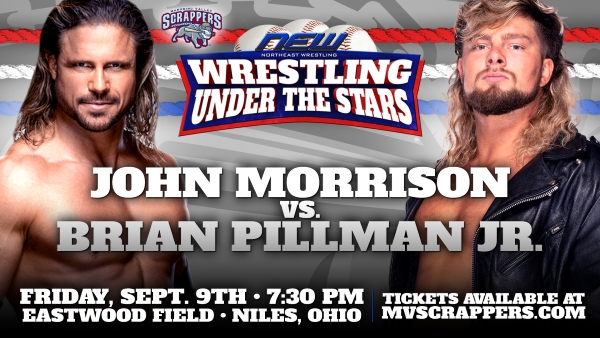 ---
RICKY STARKS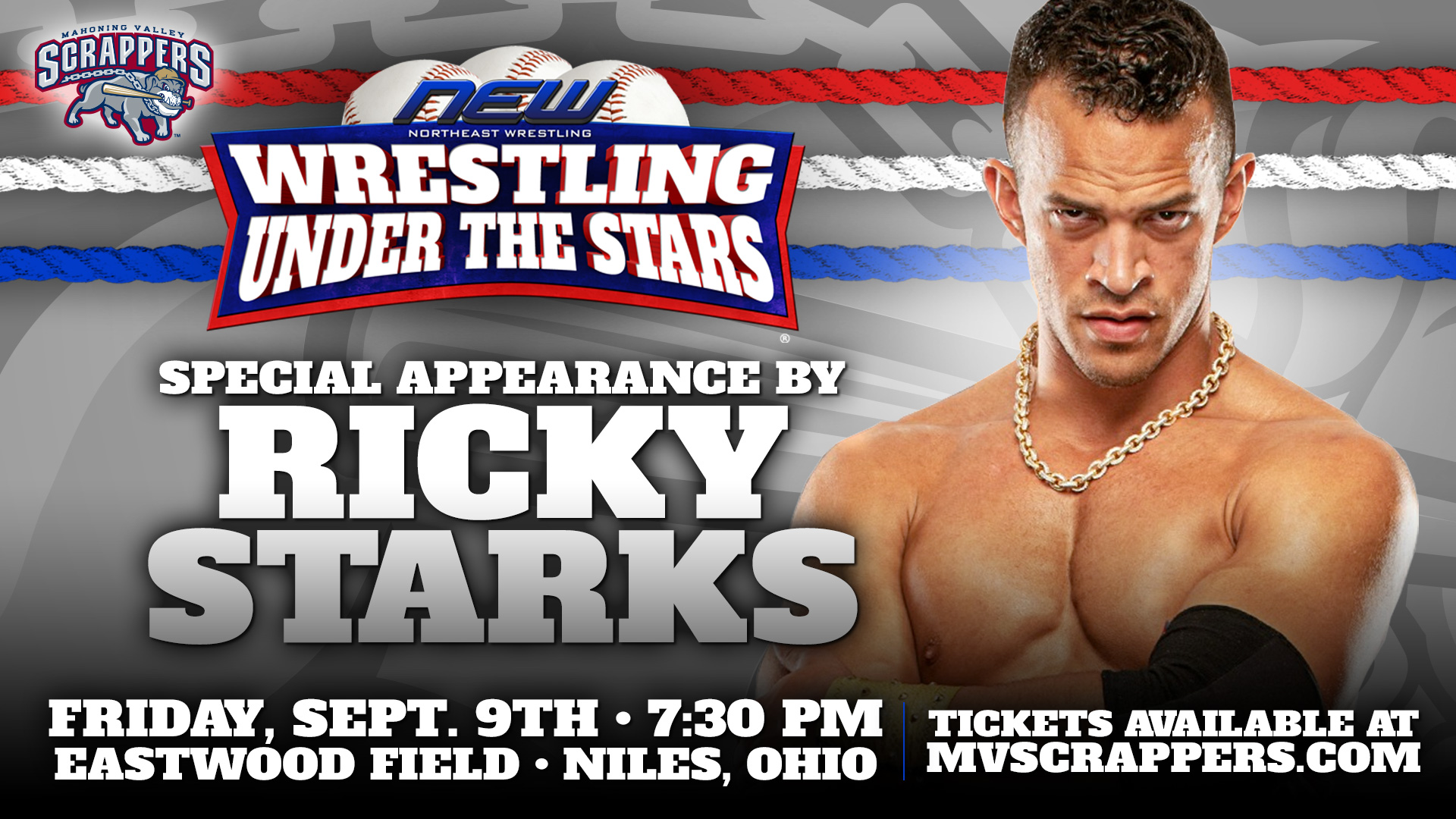 ---
ERICK REDBEARD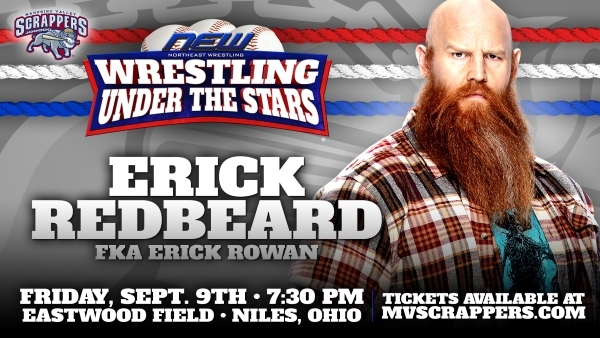 ---
SPENCER SLADE VS. COLE KARTER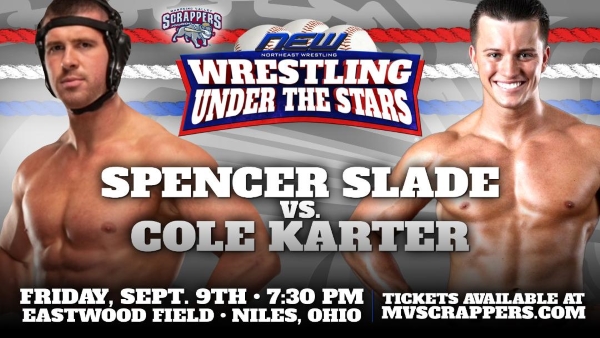 ---
RAY LYN VS. KATIE ARQUETTE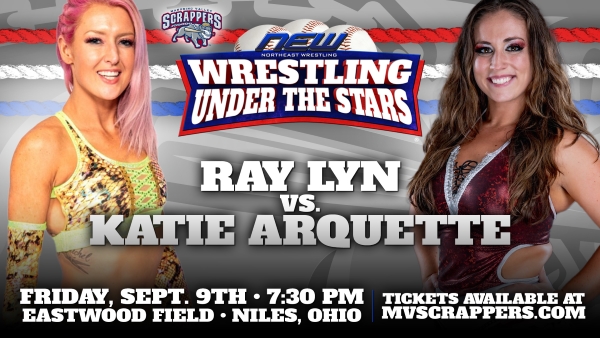 ---
BILL COLLIER VS. JAXON ARGUS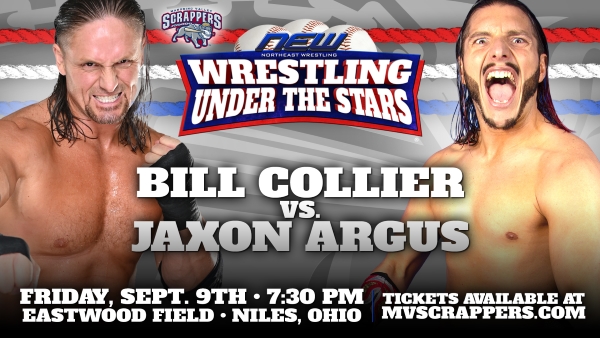 ---
ALL NORTHEAST WRESTLING TICKET SALES ARE FINAL.
NO REFUNDS OR EXCHANGES.

Northeast Wrestling Events
---
Meet Wrestling Superstars
---
Autographs Store
---
Northeast Wrestling On Demand!
---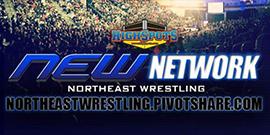 - Watch via Pivotshare
- Watch via the Highspots Wrestling Network
Stream these shows NOW via your computer, phone, tablet and on your television with Apple TV, Roku or Chromecast!
Recently Added:
- Tag Wars | Pivotshare | Highspots
- Hat City Havoc | Pivotshare | Highspots
- Spring Slam Tour | Pivotshare | Highspots
- Spring Slam 2023 | Pivotshare | Highspots
- March Mayhem 2023 | Pivotshare | Highspots
- Wrestlefest 27 | Pivotshare | Highspots

Subscribe to our e-Newsletter
---
Sign-up for our FREE e-newsletter. Simply enter your e-mail below and then click the "Subscribe" button.

Pro Wrestling Tees Store
---
Free Match on YouTube

---
Facebook
---
Twitter
---
Bookings
---
Northeast Wrestling and NEW Entertainment can provide you and your business with one of the superstars of wrestling for your next big event. Superstars such as Mick Foley, Jerry "The King" Lawler, Jim Ross and current WWE Superstars are available for autograph sessions, personal appearances, grand openings, motivational speaking, etc.
E-Mail Us
for more information.