FRIDAY, JUNE 9: LUCHA MANIA
---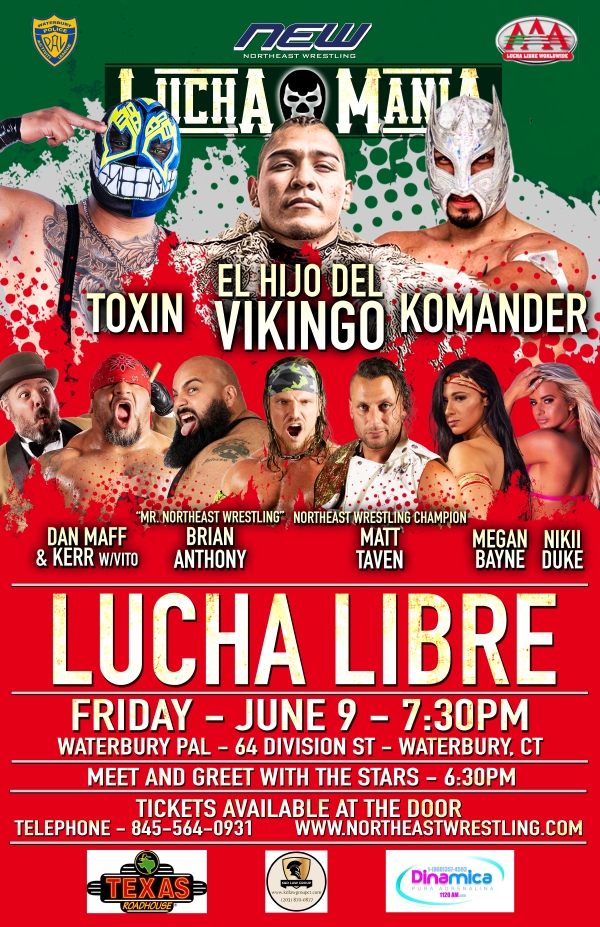 Northeast Wrestling presents LUCHA MANIA at the Waterbury PAL, 64 Division Street in Waterbury, CT on Friday, June 9th. Featuring Mexican Luchadore and AAA Mega Champion El Hijo del Vikingo!! Many other luchadores will be in action plus all of your favorite Northeast Wrestling stars. Meet and greet with all the stars at 6:30 p.m.
SCHEDULED TO APPEAR . . .
EL HIJO DEL VIKINGO VS. KOMANDER VS. TOXIN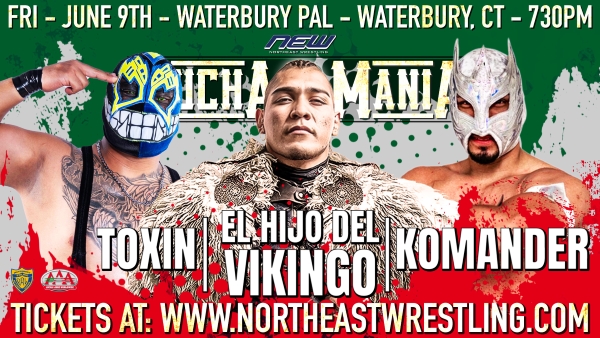 ---
NORTHEAST WRESTLING TAG TEAM CHAMPIONSHIP MATCH
"MR. NORTHEAST WRESTLING" BRIAN ANTHONY & NORTHEAST WRESTLING CHAMPION MATT TAVEN VS. DAN MAFF & KERR W/ VITO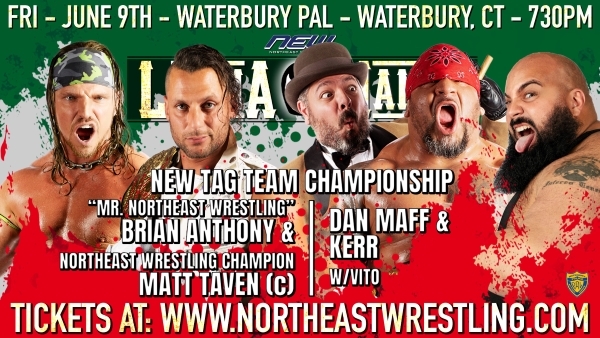 ---
WAVES & CURLS, ENCORE & J HERU VS. NEW LIVE! CHAMPION VICTORIOUS BRG, LUCAS CHASE & THE BRICK CITY BOYZ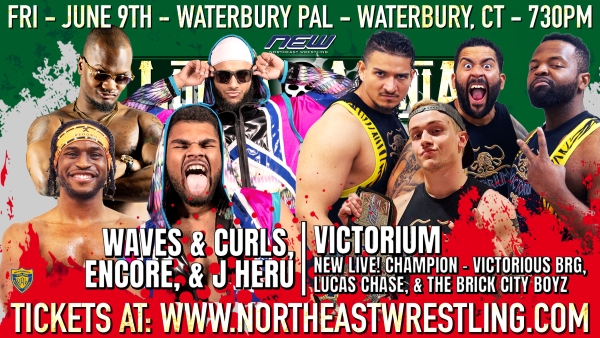 ---
"POP PUNK DEVIL" RJ RUDE VS. "BEAUTIFUL" BRAD BAYLOR W/ DANIELLE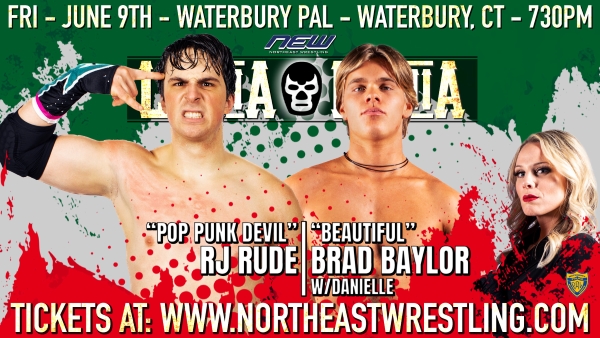 ---
"THE GOOD DOCTOR" LANDON HALE VS. "ISRAELI ACTION FIGURE" GAL BARKAY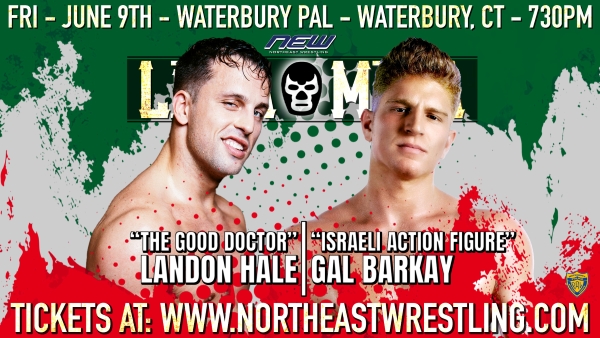 ---
"BIG BACON" BRAD HOLLISTER VS. RON ZOMBIE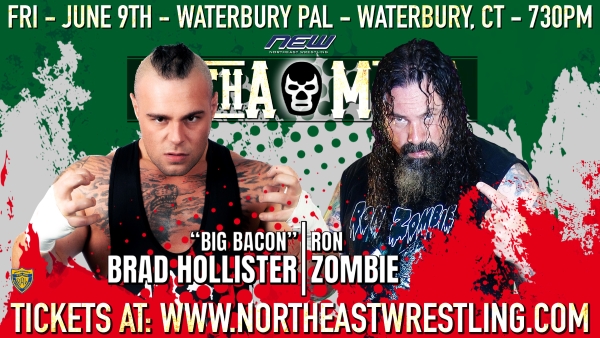 ---
WRECKING BALL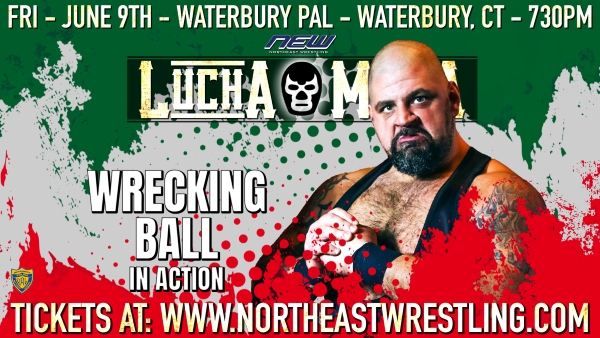 ---
"MEGASUS" MEGAN BAYNE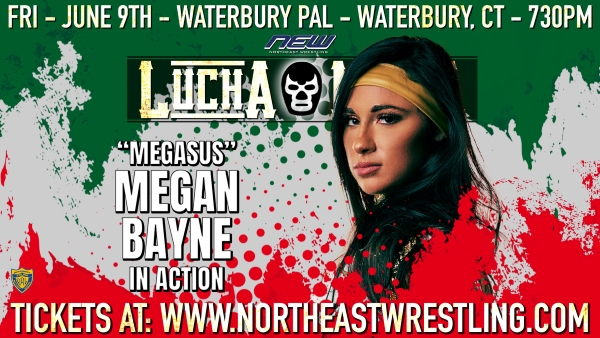 ---
ALL NORTHEAST WRESTLING TICKET SALES ARE FINAL.
NO REFUNDS OR EXCHANGES.

Northeast Wrestling Events
---
Meet Wrestling Superstars
---
Autographs Store
---
Northeast Wrestling On Demand!
---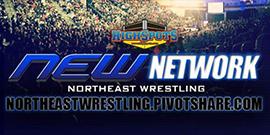 - Watch via Pivotshare
- Watch via the Highspots Wrestling Network
Stream these shows NOW via your computer, phone, tablet and on your television with Apple TV, Roku or Chromecast!
Recently Added:
- Tag Wars | Pivotshare | Highspots
- Hat City Havoc | Pivotshare | Highspots
- Spring Slam Tour | Pivotshare | Highspots
- Spring Slam 2023 | Pivotshare | Highspots
- March Mayhem 2023 | Pivotshare | Highspots
- Wrestlefest 27 | Pivotshare | Highspots

Subscribe to our e-Newsletter
---
Sign-up for our FREE e-newsletter. Simply enter your e-mail below and then click the "Subscribe" button.

Pro Wrestling Tees Store
---
Free Match on YouTube

---
Facebook
---
Twitter
---
Bookings
---
Northeast Wrestling and NEW Entertainment can provide you and your business with one of the superstars of wrestling for your next big event. Superstars such as Mick Foley, Jerry "The King" Lawler, Jim Ross and current WWE Superstars are available for autograph sessions, personal appearances, grand openings, motivational speaking, etc.
E-Mail Us
for more information.