RE-SCHEDULED: WRESTLING UNDER THE STARS AT EASTWOOD FIELD
---
Due to unavailability of talent at the original event date, the Mahoning Valley Scrappers and Northeast Wrestling announce that Wrestling Under the Stars live at Eastwood Field has been rescheduled to Friday, September 9, 2022 at 7:30pm and will feature Malakai and additional wrestling superstars to be announced. The event is sponsored by Texas Roadhouse with Wholesale Fireworks and Pacifico.

Northeast Wrestling Events
---
Meet Wrestling Superstars
---
- TBD:

Northeast Wrestling On Demand!
---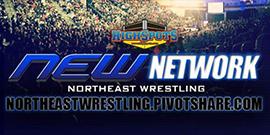 - Watch via Pivotshare
- Watch via the Highspots Wrestling Network
Stream these shows NOW via your computer, phone, tablet and on your television with Apple TV, Roku or Chromecast!
Recently Added:
- Wrestling Under the Stars | Highspots
- Destiny | Pivotshare | Highspots
- Superstar Showdown III | Highspots
- Heat Wave | Pivotshare | Highspots
- Six Flags Slam Fest | Pivotshare | Highspots
- Superstar Showdown II | Pivotshare | Highspots
- Flippin' Out | Pivotshare | Highspots

Subscribe to our e-Newsletter
---
Sign-up for our FREE e-newsletter. Simply enter your e-mail below and then click the "Subscribe" button.

Pro Wrestling Tees Store
---
Free Match on YouTube

---
Facebook
---
Twitter
---
Bookings
---
Northeast Wrestling and NEW Entertainment can provide you and your business with one of the superstars of wrestling for your next big event. Superstars such as Mick Foley, Jerry "The King" Lawler, Jim Ross and current WWE Superstars are available for autograph sessions, personal appearances, grand openings, motivational speaking, etc.
E-Mail Us
for more information.